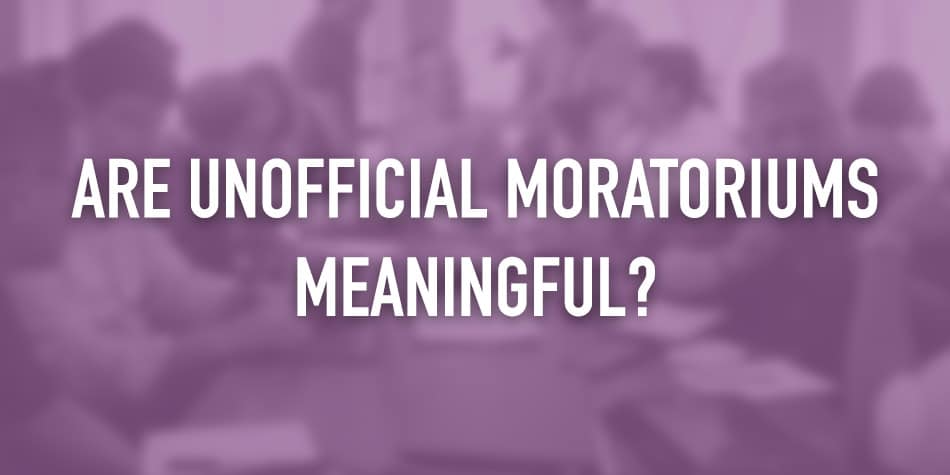 Importance of understanding phases of abolition: the danger of 'abolitionist in practice' 
International standards
In July 2023, the World Coalition hosted a seminar in Malaysia in the context of its "Countries at Risk" project. This subject of informal moratoriums solicited much interest as participants considered preventative strategies for stopping a return to the death penalty, and what environmental factors need to be considered to implement those strategies. This article aims to delve into the discussions that were held.
The international anti-death penalty movement has long relied on defining and identifying various phases of abolition to create a common understanding and for building advocacy strategies. Commonly, it is heard that a State can be abolitionist (for all crimes or for ordinary crimes only), abolitionist in practice (under a long-term official or unofficial moratorium on executions), or retentionist. These are the categories identified by Amnesty International and used by many anti-death penalty organizations, including the World Coalition Against the Death Penalty and the Maldivian Democracy Network. Most organizations use similar definitions, although there can be some variation in how the categories are applied from country to country.
These categories are pivotal to international abolitionist work. They help identify where a given State may be in their use of the death penalty and, as such, the advocacy strategies that may be put in place to achieve full abolition. Additionally, it paints a global picture of the use of the death penalty, substantiating the trend that abolition is rising around the world.
However, abolitionist in practice – particularly those States with an unofficial moratorium – is a tricky category. This phase describes States where death sentences are still handed down and no official moratorium is in place. In these States, like the Maldives, Sri Lanka, South Korea, and Kenya, a population of persons may be on death row and growing, but with no executions scheduled. In this context, it is pertinent to ask what is preventing a swift return to executions? If the answer is 'very little,' then why is the international abolitionist community still calling these countries abolitionist?
Political advantages to maintaining unofficial moratoriums
There is a significant advantage for retentionist governments which maintain unofficial moratoriums not to change. From a national perspective, the structure of the death penalty can be maintained; individuals can still receive a capital sentence in the case of only a moratorium on executions; and capital punishment can continue to be instrumentalized for political purposes. From an international perspective, those States are able to assert that they do not execute and are thus on the on the winning side of human rights. Depending on the length of the unofficial moratorium, they are also frequently identified as abolitionist in practice in the international arena, thus considered more abolitionist than retentionist.
This can be a dangerous attitude to adopt as it can lull national, regional and international stakeholders into assuming a more moderate posture regarding that State's abolitionist status. In practice, a State with a death row population and few if any legal preventative measures to block the revival of executions should be considered retentionist.
Turning an unofficial moratorium into an official one has less religious pushback than political
Maintaining an unofficial moratorium is a low-risk but high-reward choice for governments that wish to keep capital punishment as a political tool at home while winning political points internationally. It therefore requires political will or, more frankly, an opposition to vested interests to commit to an official moratorium that would effectively prevent governments from resuming executions.
An excuse that governments use to justify this ambiguity of unofficial moratoriums commonly include the argument of religious prescriptions to the death penalty, which is the case in the Maldives. An official moratorium does not attempt to negate a religious prescription at all. What it attempts to do is formalize a practice in place for decades in the interest of protecting not only the right to life but several human rights connected to it. The question in relation to this argument is whether an unofficial moratorium is any different from an official one in relation to the religious obligations of the State or its people. The result is the same – that the State is abolitionist in practice. So what is holding these States back?
Once an official moratorium enters into force, even powerful authoritarians, do not often change their stance on it later, even when it may seem like the convenient or more popular route. Let us look at an unlikely example, Russia, where there has been a moratorium since 1996, later reaffirmed in 1999 and 2009. As calls for restoring the death penalty grow, primarily after Russia's suspension from the Council of Europe for its illegal invasion of Ukraine, President Putin and the Constitutional Court have reaffirmed their stance against its return, highlighting legal challenges.
It also constitutes a critical first step towards full abolition. This is true in Malaysia, which established an official moratorium on executions to contemplate policy changes in 2018. Five years later, in April 2023, it took the step to abolish mandatory death penalty, a move welcomed by the abolitionist community and seen to have a domino effect in the region.
Not an effective guarantee
An unofficial moratorium in the hands of a populist government looking to win political points effectively puts the lives of people on death row in a state of limbo.
In the Maldives, there has only been one execution, which took place 70 years ago. Under President Abdulla Yameen's administration from 2013 to 2018, he lifted the existing moratorium by enforcing a regulation to implement the death penalty and thereby put three young men at risk of execution, in addition to spending millions to construct a gallows. The unofficial moratorium was verbally restored by his successor Ibrahim Mohamed Solih. While the regulation remains in force, and the former party came into power after Solih's loss in the September 2023 elections, the fate of Maldives remains to be seen.
The same is true in Sri Lanka, where the "tradition of the previous administrations since 1976" not to carry out executions did not stop President Maithripala Sirisena from signing the death warrants and scheduling the executions of four convicts with drug-related offenses in 2019.
In both cases, pressure from civil society and the intervention of functioning democratic institutions thwarted the attempts, with the UN Human Rights Committee requesting a stay of execution in the Maldives and the Supreme Court of Sri Lanka issuing an interim injunction. It must be said, however, that this does not always work. In the United States, despite intense pressure and a 17-year hiatus on federal executions, President Trump carried out 13 executions, some during his last days in office in 2021, and became the country's most prolific executioner in more than 120 years.
Where the will to restore capital punishment is strong, an unofficial moratorium is not at all an effective roadblock. Myanmar proved this when the military junta ended the three-decade unofficial moratorium and executed at least four pro-democracy activists in 2022.
A necessary shift in language
Without taking the necessary political steps and putting in place the most basic guarantees, should a country still be considered abolitionist in practice?
During the seminar it was deemed that the anti-death penalty community must reject the notion of an informal moratorium entirely. An "unofficial moratorium" can be anything from being a long-standing tradition to an established practice. It does not change laws or penal codes but only serves as a temporary measure to stop executions until it is lifted.
The line should be drawn here. When States continue to have the death penalty in law but place an official moratorium on the implementation and are thus given the status of abolitionist, those states are already enjoying the leniency of being viewed as 'abolitionist in practice' on top of the fact that they are already refusing to remove the death penalty from their penal systems.
Instead of rewarding countries that cannot even enforce an official moratorium with the "abolitionist" label, we must call them what they really are to accurately define their position in the road to abolition and reorient our strategies accordingly. "Unofficial moratorium" countries are more retentionist than abolitionist. It's high time that our language and strategies reflect this reality.