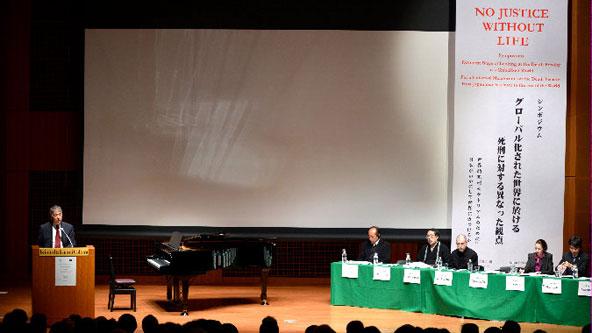 Japan's death penalty under scrutiny
Asia
A far-reching panel of activists, lawyers, clerics, academics, artists, former death row inmates and diplomats from inside and outside Japan took part in a public event at Tokyo's Italian Cultural Centre on October 29 to discuss the theme "No justice without life – the death penalty in a globalized world" (photo).
The Community of Sant'Egidio, a World Coalition member organisation, organised the event. Its spokesman Mario Marazziti told the audience that "Japan should follow the world trend on the issue" of the abolition of capital punishment.
He described the conference as "incredibly interesting and promising, connecting many of the Japanese groups, some social, cultural and political and religious forces" in the debate about the death penalty.
Very few people in the world know that Japan is one of the few democracies that still carries out executions. Find out more about the Japanese death penalty situation with these key facts compiled by the Advocates for Human Rights, another World Coalition member organisation:
What is the latest news about capital punishment in Japan?
On September 27, 2012, Japan executed two death row inmates. These were the sixth and seventh executions of 2012. 131 prisoners remain on death row.
The Justice Ministry recently disclosed documents shedding light on the administrative process involved with the issuance of death warrants. The documents demonstrate an opaque process that does not identify why or how inmates are selected for execution.
On June 6, 2012, three top Justice Ministry officials announced that they will study the possibility of adopting lethal injection execution methods used in the United States, many of which are being challenged in that country as cruel and unusual.
Who can be sentenced to death in Japan and what is the judicial process like?
18 offenses are punishable by hanging. Japan has failed to carry out reforms recommended as part of the Universal periodic review to provide essential safeguards to protect innocent and incompetent persons from execution.
Moreover, harsh death row conditions constitute cruel and unusual treatment.
In the Daiyo Kangoku (substitute prison system), detained suspects face a high risk of torture and other degrading treatment. Police in these facilities may interrogate suspects for up to 23 days without charge.
Prosecutors and the authorities have broad discretion to determine whether and when defense counsel has access to the accused during interrogations, and which segments of an can be used in court.
An individual may be executed without any appeal or review of the original conviction.
How are people treated on death row in Japan?
Japanese law requires death row inmates to be held in single cells and prohibits them from mutual contact with other inmates. Prolonged solitary confinement is not the exception, but the rule.
"Peace of mind" conditions are a pretext for imposing harsh treatment, including strict restrictions on communication with outside people and denial of independent psychiatric evaluation and treatment.
The authorities do not notify inmates of their execution until the day of execution, and family members and legal counsel until after the execution.
What should Japan do about its death penalty system?
The country should reform its criminal justice system to ensure compliance with minimum international standards and safeguards by:
– establishing transparency in all phases of capital proceedings;
– monitoring of all interrogation procedures during all phases of interrogation;
– introducing a mandatory system of appeals in cases involving capital offenses;
– barring prosecutors from requesting the death penalty on appeal; and
– suspending execution orders during all post-conviction proceedings, including petitions for retrial, and clemency requests.
The practice of isolating death row prisoners indefinitely should end and conditions of detention should comply with international standards, including guaranteeing their right to counsel and communication with the outside world.
The authorities should provide prior notification of execution date to prisoners, counsel, and their family members.
Japan should also establish an independent system for systematic and specialized psychological and psychiatric evaluation of every inmate's mental condition at every stage of a criminal proceeding to prevent the execution of the mentally insane and individuals with diminished mental capacity.
The Advocates for Human Rights and the World Coalition call on the Japanese government to establish a moratorium on executions and create an official and transparent expert study group to review the application of the death penalty in Japan and disseminate information about the death penalty and criminal justice system to the public.