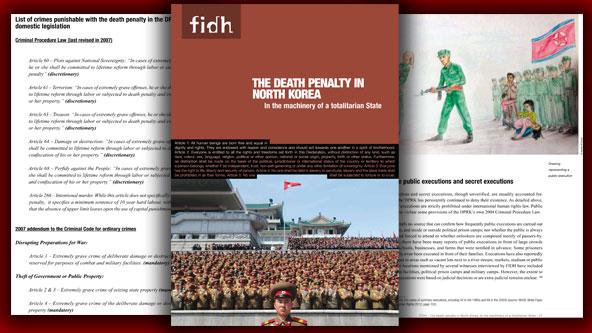 Death penalty still used to make examples in North Korea
Asia
A new investigation of the death penalty in North Korea by the International Federation for Human Rights (FIDH, a World Coalition member) concludes that "the death penalty in the DPRK is applied in total opacity, in a way that, in addition to violating the right to life, is an arbitrary deprivation of life".
An FIDH delegation interviewed refugees fleeing the Pyongyang regime as well as the South Korean organisation assisting them. Tolekan Ismailova, director of Kyrgyz FIDH affiliate Citizens against Corruption, Speedy Rice, law professor at Washington & Lee University School of Law, Marie-Orange Rivé-Lasan, associate-professor of Korean contemporary history at Paris Diderot University and FIDH consultant Sarah Mahir visited Seoul in December 2012.
They collected testimonies exposing the constant use of the death penalty in North Korea since the 1990s against an ever larger and fuzzier range of crimes. "In spite of recent legal reforms, the death penalty may therefore still be carried out for a large number of crimes, sometimes defined in broad and vague terms. Moreover, there is a lack of guarantees to protect citizens from abusive or arbitrary use of the death penalty," the investigators wrote.
"Political crimes"
Marie-Orange Rivé-Lasan said that there were two categories of capital crimes in North Korea: murders and "political crimes against the cult of the Great Leader, which are more subjective and easier to use against perceived enemies". She added that waves of executions, some held in public, have been used to impress the population.
Watch her video interview below to find out more on FIDH's mission to Korea, the use of the death penalty to make examples and capital punishment under new North Korean leader Kim Jong-un:
Rivé-Lasan added that although many North Korean refugees have witnessed public executions, few were asked about the death penalty when they arrived in South Korea. "One person we interviewed started to cry because this was part of their past, but they had never had a chance to talk about it," she said.
Some witnessed interviewed by FIDH said they were rounded up in primary school and forced to watch executions.