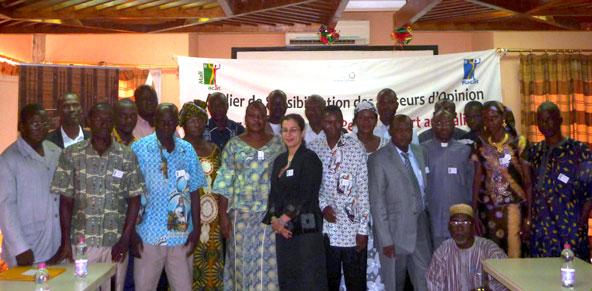 Malian opinion leaders meet to discuss death penalty abolition
The twenty participants to the workshop included religious and traditional leaders, civil society representatives, journalists, members of the National Human Rights Commission of Mali and members of parliament.
They identified reasons why the vast majority of Malian people supports the death penalty and listed religious and traditional arguments to convince them of the need to abolish it, including:
•    contrary to popular belief, the abolition of the death penalty does not create impunity;
•    the scriptures that form the basis of the Christian and Muslim faiths promote life and forgiveness;
•    customary law has been evolving towards alternatives sanctions to capital punishment.
The participants noted the importance of having advocacy for the abolition of the death penalty in Mali to be conducted first by civil society, and then by the Malian authorities.
In their final declaration, the participants called on the Malian authorities to:
•    continue working towards the abolition of the death penalty;
•    facilitate a collaboration forum for all actors of Mali's civil society to join forces against the death penalty.
FIACAT and ACAT Mali also call on the Malian authorities to:
•    abolish the death penalty for all crimes and ratify the United Nations' Protocol on the abolition of the death penalty;
•    co-sponsor the Resolution calling for a moratorium on executions to be presented before the UN General Assembly in December 2014;
•    support the proposed African Protocol on the death penalty to be presented to African Union member states shortly.