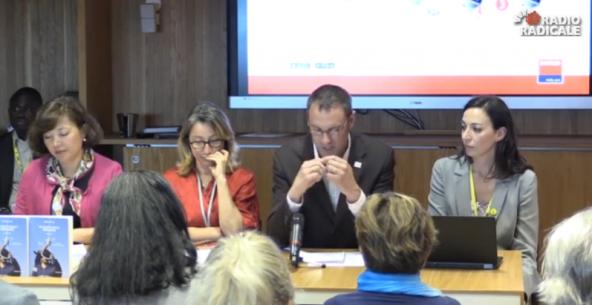 Event on the UNGA resolution for a moratorium on the use of the death penalty at the World Congress
World Congress
The UNGA moratorium resolution
The UNGA has adopted a resolution calling for a moratorium on executions with a view to abolish the death penalty for the first time in 2007, then in 2008 and hence every two years.

Elisabetta Zamparutti, Treasurer of Hands Off Cain noted that the adoption of the UNGA resolution speeded up the abolitionist trend, certifying the development of an ever-growing international consensus against the death penalty, as it has been adopted with an increasing number of votes in favor and abstentions and a less votes 'against'.
The 6th UNGA moratorium resolution to be approved next December
Nevertheless, it will not be an easy task for the abolitionist movement to see a growth in the number of countries voting in favor in 2016. Even securing the remarkable result obtained in 2014 (with 117 votes in favor, 38 against, 34 abstentions and 4 absents) will be challenging.
Chiara Sangiorgio, Advisor on the Death Penalty at Amnesty International, stressed how the recent resumption of executions in countries that had engaged, at different levels, in a path towards the abolition by abstaining or voting in favor of the moratorium resolution threatens the positive trend established since 2007. Chad, Jordan, Indonesia are all countries that have shown sets back and the hope is that these negative developments will not be further confirmed by a change of vote.
The importance of champion countries: Mongolia sets an example for Asia
In order for the campaign to be successful and to involve new countries, a key role will be played by those champion countries that having walked the entire path towards abolition and can share their experience regarding the strategy and the steps that led them to the total abolition.
Among these, this year a leadership role will be played by Mongolia, a country that officially banned capital punishment from its legislation in 2015, after six years of moratorium and the ratification of the Second Optional Protocol to the ICCPR in 2012.
Bayartsetseg Jigmiddash, Secretary of State for Justice of Mongolia, reaffirmed the commitment of Mongolia to co-sponsor the UNGA moratorium and to set an example for other Asian countries, launching a clear message: "Mongolia abolished the death penalty. We have done it. Why don't other countries join us?"