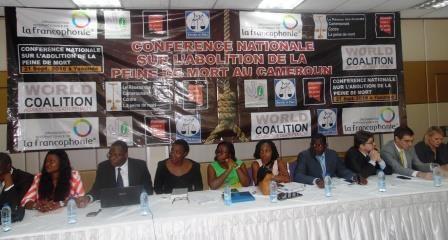 In Cameroon, the abolitionist network grows
Africa
The urgency of abolishing the death penalty in Cameroon

The national conference, which took place on September 21, 2016 in Yaounde, had a major objective : spreading the abolitionist culture within the Cameroonian society and encouraging the development of a Cameroonian Coalition against the Death Penalty. The conference gathered officials from the government of Cameroon, political parties, judges and lawyers as well as leaders of civil society and the media.
According to the President of Droits et Paix, Mr. Nestor Toko, the conference resulted in recommendations made by the various working groups. These recommendations include the ratification of the Second Optional Protocol to the International Covenant on Civil and Political Rights, the formulation of laws proposed by abolitionist parliamentarians, the invitation for judges to observe a moratorium on death sentences and the invitation to the civil society to gather around a network to raise awareness and undertake advocacy actions.
The Lawyers network against the death penalty

Following the conference, a training session over two days was held destinated to the association leaders and legal professionals. The audience was composed largely of lawyers belonging to the Lawyers network against the death penalty.
The network, chaired by Mr. Nestor Toko, was formed in July 2015 and has already 37 members. 25 of them, from eight regions of Cameroon, attended the conference and the training session showing the determination of Cameroonian lawyers to engage effectively in the abolitionist struggle.

The consolidation of the abolitionist network in Cameroon is particularly relevant at a time when, since the implementation of the Anti-Terrorism Law No. 2014/028 2014, over 1,000 people have been accused of belonging to Boko Haram and 100 of them were sentenced to death following unfair trials, according to Amnesty International.