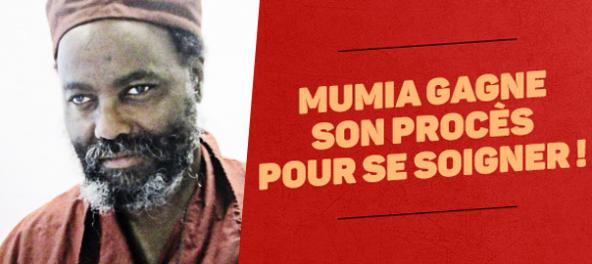 Federal Justice orders the prison administration to immediately provide African-American journalist Mumia Abu-Jamal with treatment
A year and a half after Mumia had been hospitalised for diabetic coma – which could have proven fatal to him and which caused very painful sequelae –, worldwide mobilisation and legal battles have won over the Administration's inhumanity. Through Bet Grote, from the Abolition Law Center, and the Lawyer Robert Boyle, Mumia's defense congratulated itself for "this great victory won by thousands of people who supported Mumia and without whom we could not have imagined to win". Two trials, thousands of hours to write motions or to call on the Administration through gatherings, demonstrations, phone calls, mails and petitions have been necessary to reach this victory.
Winning this case was a major challenge as evidence proving that any delay in the treatment would cause irreversible lesions to Mumia and to the untreated 6,000 Pennsylvana's prisoners suffering under hepatitis C had to be presented. According to Bret Grote, it is the first time in the USA that a federal court orders prison officials to provide prisoners with the new medications that came on the market to eliminate this serious disease.
Last August, as the same Judge rejected the first request, there was significant anxiety. Nevertheless, anger reinvigorated the mobilisation. For instance, $130.000 were gathered by worldwide supporters of Mumia to fund the continuation of the legal battle and the medical treatments needed for Mumia.
The French Collective "Free Mumia" congratulates itself for having contributed to this victory of the respect to the right to human life through the events it organised and those of the many organisations it gathers (more than 100, including the city of Paris). The mobilisation shall however not weaken, in order for the life-saving treatment to be immediately prescribed and for Mumia to be set free as soon as possible. After having spent 35 years in jail, including 30 on death row, this man, who could never defend his innocence, victim of a racist and unfair trial, in violation of international law standards, as recognised by the UN Commission on Human Rights, the European Parliament and Amnesty International, deserves justice.
For more information: www.mumiabujamal.com