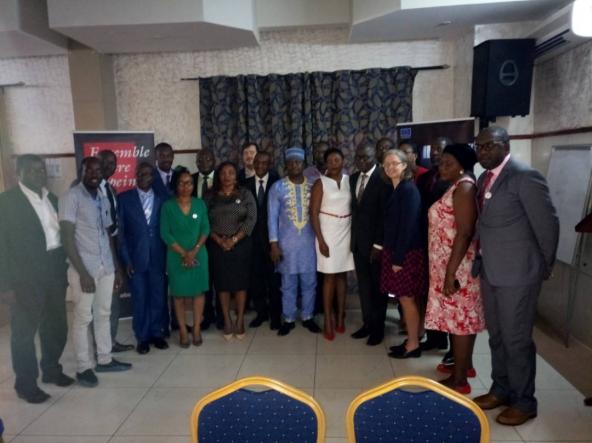 Toward the abolition in Cameroon
Africa
The country also abstained from voting on the UNGA resolution for a universal moratorium on executions, in December 2016. The increasing number of terrorist acts by Boko Haram and the resurgence of conflicts between the French speaking and the English-speaking population put human rights under extreme pressure, which affects the number of death sentences.
In this context, on 13 and 14 June 2017, the Regional Conference « Towards abolition in Cameroon » took place in Yaoundé, Cameroon, organized by ECPM and Droits et Paix, in partnership with The Advocate for Human Rights (TAHR), all members of the World Coalition.
This conference consisted in two days of workshop dedicated to lawyers, members of the Lawyer's Network Against the Death Penalty, NGO's and members of the National Human Rights Institution with the aim of strengthening the capacities of the different abolitionist actors of Cameroon.
On the first day, the participants were trained on the Universal Periodic Review mechanism by Amy Bergquist (TAHR), newly elected vice-president of the World Coalition Against the Death Penalty, and by Nicolas Perron (ECPM). The second day was dedicated to fact-finding missions on death row and international standards on detention conditions.
With role-playing and other workshops, this conference provided several tools to the participants who can from now on use them in advocacy actions, report writing or even to conduct interview with death row detainees.
The presence of the National Human Rights Commission also allowed meaningful discussions between the participants and permitted to raise awareness on the necessary mobilization for the abolition of the death penalty.
This training for local actors was relevant and replaced the issue of the death penalty in Cameroun at the core of the debate.
The debate and information which has been circulated during this conference will be useful to build the alternative report for the UPR on Cameroon currently prepared by ECPM and which will be submitted before October 2017 with the support of the World Coalition.
In that vein, ECPM plans to organize advocacy activities and events in Africa throughout 2018. The 3rd Regional Congress against Death Penalty will take place in Sub-Saharan Africa in April 2018.