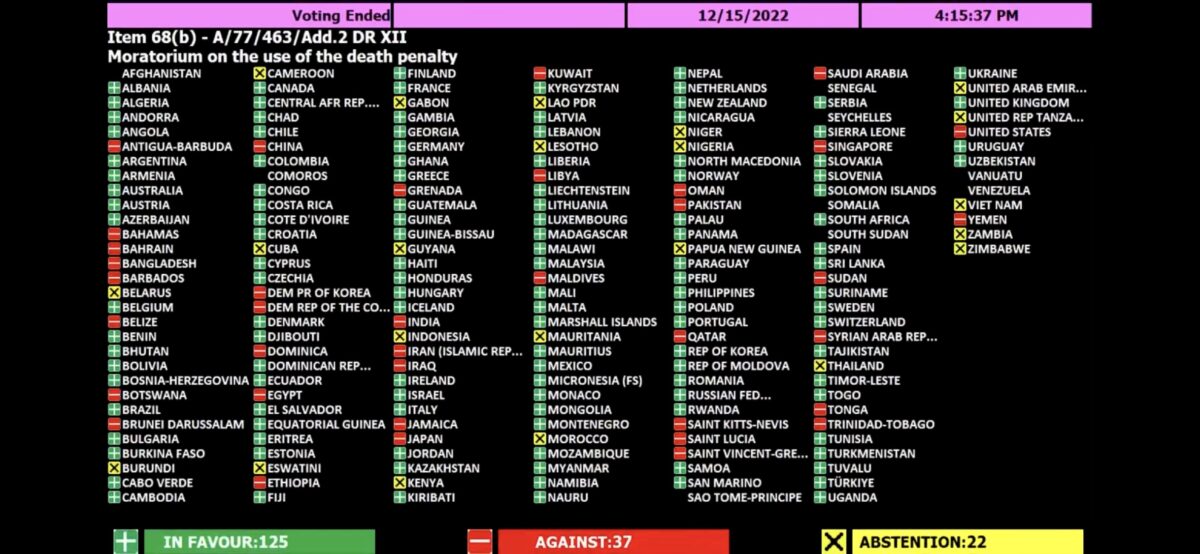 9th Resolution for a moratorium on the death penalty: the trend is growing
Good news
On 15 December 2022, the United Nations General Assembly adopted the 9th resolution for a moratorium on the use of the death penalty with 125 votes in favor (2 more than in 2020), 37 votes against, 22 abstentions and 9 absent.
Positive changes reflect the trend towards abolition in Africa
For the 1st time, 3 countries that had abstained in previous votes voted in favor of the resolution:
These changes in votes reflect ongoing debates in these countries to abolish the death penalty.
In 2022, 29 countries in Africa voted in favor of the resolution compared to 17 in 2007.
Confirming positive changes in Asia and the Middle East
For the second or third time in a row, the following countries confirmed their support for the resolution:
Djibouti
Jordan
Lebanon
South Korea
Malaysia
Philippines
Also, Papua New Guinea moved from a vote against to an abstention (it abolished the death penalty in 2022), and Myanmar from an abstention to a vote in favor.
Disappointing votes of some countries where intense mobilization of civil society did not materialize
Since May 2022, the World Coalition and its member organizations have coordinated a campaign to gather more support for the resolution.
Of particular focus this year was the USA, which voted against the resolution for the 9th time.
Of concern also the Democratic Republic of the Congo voted against for the 1st time.
Finally, Vanuatu and Venezuela were absent for the 1st time, they had always voted yes before.
Growing support over the years
With 2 more votes in favor compared to 2020, the resolution has now reached 125 votes. The text of the resolution has also evolved over the years.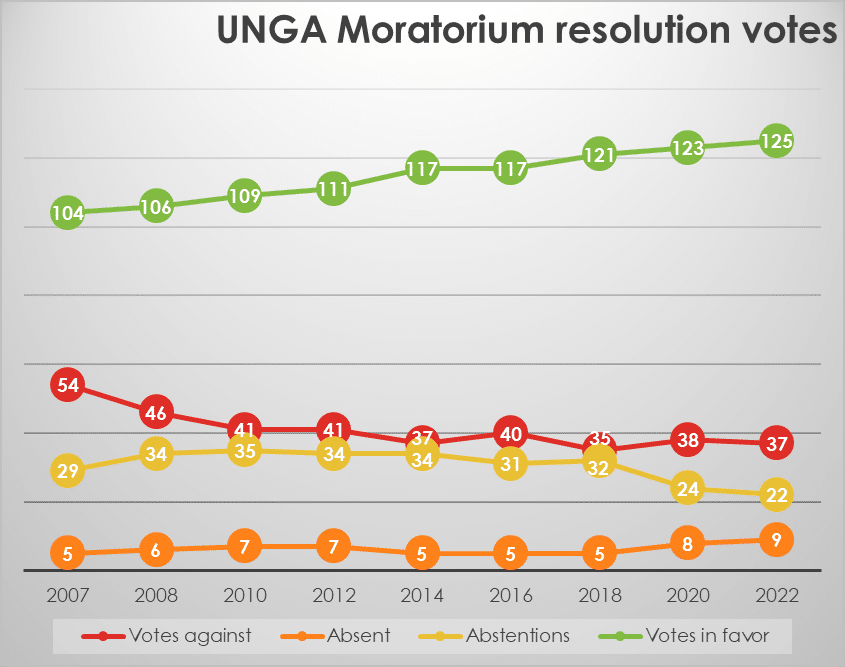 The next moratorium resolution, the 10th resolution, will be adopted in December 2024 and the goal will be to reach 2/3 of the United Nations Member States voting in favor.