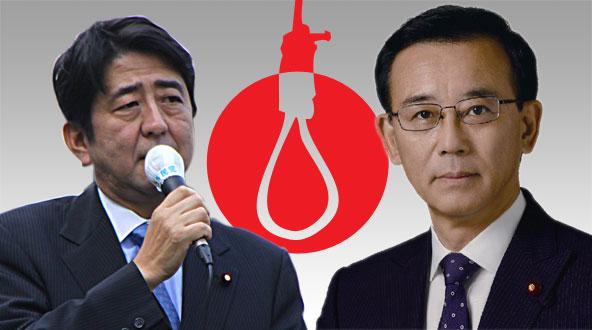 Latest Japan execution violates UN guidelines
On Thursday, 12 September, Japan's Justice Minister Sadakazu Tanigaki ordered the execution of Tokuhisa Kumagai, aged 73, at Tokyo Detention Center.
This is the third execution under the government led by Liberal Democratic Party which came back to power last December, and the latest execution has brought this year's total number of executions to six. All were authorized by Minister Tanigaki (photo, right – with Prime minister Shinzo Abe).
In Kumagai's case, there was one victim, and Kumagai was first sentenced to life imprisonment. However, the prosecutor appealed to the High Court seeking the death penalty. The original sentence was subsequently replaced by the death penalty, which was confirmed by the Supreme Court.
It must be said that this execution goes against the UN Human Rights Committee's recommendations that 'the death penalty should be strictly limited to the most serious crimes' and 'consideration should be given by the State party to adopting a more humane approach with regard to the execution of persons at an advanced age'.