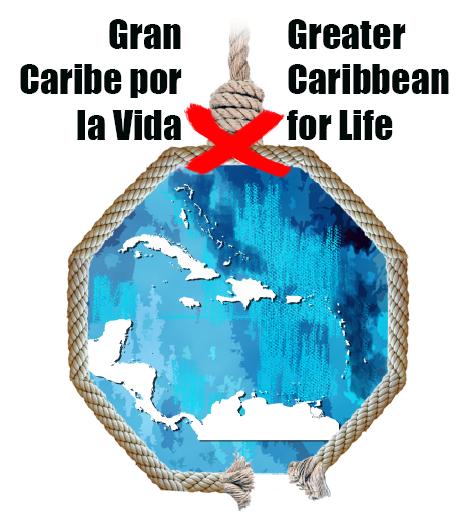 The Greater Caribbean for Life rejects the call for the resumption of the death penalty
Caribbean
The Greater Caribbean for Life (GCL), an independent, not-for-profit regional civil society organization working towards the abolition of the Death Penalty in the region, rejects the recommendation for the resumption of the death penalty, made by Police Superintendent Dr. Chaswell Hanna in his recent study, "Solutions to the Murder Problem."
GCL believes that society has a right to protect itself from persons who commit heinous crimes and offenders must be held accountable. However, we believe that non-lethal means are sufficient to defend and protect society from offenders. While GCL condemns the rise of violent crime in the Bahamas and expresses solidarity with victims, members reject the notion that capital punishment will act as a deterrent or foster respect for life in our communities.
GCL supports the sentiments expressed in the Editorial of the Nassau Guardian dated 20 October 2017: "We do not think the death penalty will help reduce any type of crime in The Bahamas. The death penalty is irreversible and the criminal justice system often gets it wrong.
"Just look at the large number of convictions for serious crimes that get overturned when cases reach the Court of Appeal. Additionally, the death penalty is disproportionately carried out on the poor, uneducated, mentally deficient and under-represented. We should not be in pursuit of an absolute punishment when there is so much evidence that the justice system has flaws."
Dr Hanna's Study states: "Many of those opposed to capital punishment fail to understand that it was not created for prevention, but rather incapacitation and retribution". GCL's view is that even if that may have been the intention in the past, the world has moved from retribution to restorative justice/rehabilitation. The fact that 141 countries in the world have abolished capital punishment in law or in practice indicate a trend that shows that the death penalty has no place in the 21st Century.
GCL agrees with Ms. Janet Reno, former Attorney General of the USA who has said:"I think that the only purpose for the death penalty, as I see it, is vengeance– pure and simple vengeance. But I think vengeance is a very personal feeling and I don't think it is something that civilized government should engage in . . ."
The Greater Caribbean for Life (GCL) urges the Bahamian Government to reject the call for the resumption of capital punishment and address the root causes of crime rather than just the symptoms. The recommendations of the UNDP 2012 report: Human Development and the shift to better citizen security, which focused on 7 Caribbean countries, apply to the Bahamas also. The Report stated that there needs to be a better balance between legitimate law enforcement and prevention, with an emphasis on prevention; and more investment, for example, in youth development, job creation and reducing poverty and socio-economic inequality/ inequity. These strategies can contribute to a safer and more democratic and just society in the region.
Rather than baying for blood, let's all work with our respective governments to develop/employ innovative and effective strategies to reduce crime. To devise/implement more effective victim support initiatives. For example, by developing and implementing effective witness protection programmes, strengthening our criminal justice systems, improving our law enforcement agencies and detection/conviction rates. Let's improve our Forensic capabilities, and Court facilities which may serve to improve efficiency and processing of cases.
Let's deal with inordinate delays in the system due, for example, to Court backlogs, high case load, and incompetence/corruption in some Police Forces. We must strengthen family life and promote good parenting; fix any broken institutions; get rid of the drugs, guns and gangs in the Bahamas. We must also examine whether investment in education is meeting the needs of students in the 21st Century; eliminate violence in schools, homes and society at large; promote restorative justice and a culture of nonviolence, respect for self and others. The time is long overdue for our countries to promote character development and good neighbourliness. Let's speed up prison reform and the rehabilitation processes; work to restore respect for law, life and human rights, by, for example, promoting a renewed ethic of justice, responsibility and community.
Frank Friel, Former Head of Organized Crime Homicide Task Force, Philadelphia, USA rightly says: "The death penalty does little to prevent crime. It's the fear of apprehension and the likely prospect of swift and certain punishment that provides the largest deterrent to crime."
Let's not let our emotions on this issue cloud our judgment as to the best way forward. Let's stop crime, not lives!
For further information, contact Leela Ramdeen, Chair, GCL & Attorney-at-Law on 1-868-299- 8945 or via email: leela_ramdeen@hotmail.com