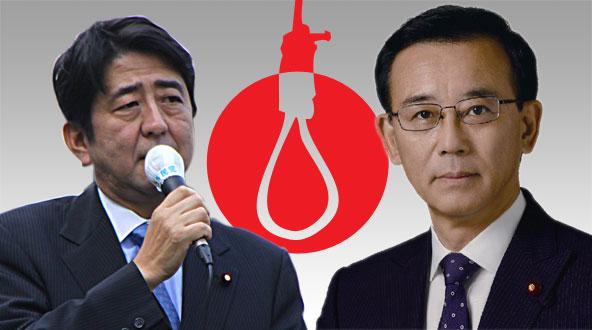 First executions under Abe government raise fears of more
Asia
The World Coalition and its member organizations slammed the Japanese government after three death row inmates were executed on 21st February.
Masahori Kanagawa, Kaoru Kobayashi and Keiki Kano were hanged in Tokyo, Osaka and Nagoya respectively while two of them had unfinished appeal processes.
The Center for Prisoners' Rights (CPR), one of the World Coalition's members in Japan, "strongly condemned" the executions while the Anti-Death Penalty Asia Network (ADPAN) said in a statement it "fears that today's executions raise the genuine fear that use of the death penalty in Japan may accelerate under the current administration".
These are the first hangings since Prime Minister Shinzo Abe (photo, left) took office in December 2012 and appointed Sadakazu Tanigaki (photo, right) as justice minister – the office in charge of approving each death warrant. Ten prisoners were executed under a previous Abe government in 2006 and 2007.
"Cold-blooded killing"
"The authorities appeared alarmingly merciless in their willingness to execute during Shinzo Abe's previous stint as Prime Minister. The fear is that this marks the beginning of a new wave of cold-blooded killing by the State. It raises serious questions whether such executions are carried out purely for political expediency," Amnesty International's East Asia director Roseann Rife said in a statement.
Justice Minister Tanigaki is known to Japanese human rights defenders as a supporter of the death penalty who declared publicly that decisions on executions should be made very carefully. "However, we cannot find any sign of cautiousness about decision making in today's executions, which were carried out only 57 days after the Minister's inauguration," CPR stated.
ADPAN highlighted that the new government's apparent scramble to carry out elections "would be in spite of calls from multiple UN bodies for Japan to work towards abolition".
According to CPR, 24 countries made recommendations related to the death penalty during Japan's last human rights review before the UN Human Rights Council. "The outcome report will be adopted at the coming eighth session of the Council and today's execution is a strong message that the government of Japan will not take any initiatives which could lead to commencement of national debate on the penalty or disclosure of related information and will continue regular executions in order to reduce the death row population", the Japanese activists wrote.
No advance notice of executions
According to local regulations, prisoners, their lawyers and their families do not receive advance notice of executions. The number of death row inmates is historically high, at 134, and World Coalition members have raised multiple concerns ranging from insufficient rights of appeal to high exposure to mental illness.
"The World Coalition Against the Death Penalty condemns the resumption of executions that occurred on 21st February in Japan," said World Coalition executive director Maria Donatelli. "The World Coalition encourages the new Japanese government to review its position on the death penalty in order to follow the worldwide trend towards abolition and in particular encourages Justice Minister Tanigaki to take all measures within his power to stop any execution, establish an official moratorium on the use of death penalty, in line with the United Nations General Assembly Resolution aiming at the abolition of the death penalty adopted by 111 countries; commute the death sentences of all prisoners in the country; and abolish the death penalty for all crimes."
Despite the authorities' unabated use of the death penalty, World Coalition members are continuing their efforts to promote abolition in Japan. Local organization Forum 90 organised a death penalty film week in Tokyo earlier this month, alternating nine films from Japan and abroad exposing the brutality of capital punishment with presentations from activists and exonerated death row inmates, while ADPAN targeted the outgoing and incoming justice ministers with a Twitter campaign during last year's elections.
On March 12, the British-based abolitionist group Death Penalty Project will hold its first public event in Japan since it started examining ways of helping the country develop an open debate on the future of the death penalty two years ago – a much-needed discussion, which local activists say has so far been stifled.