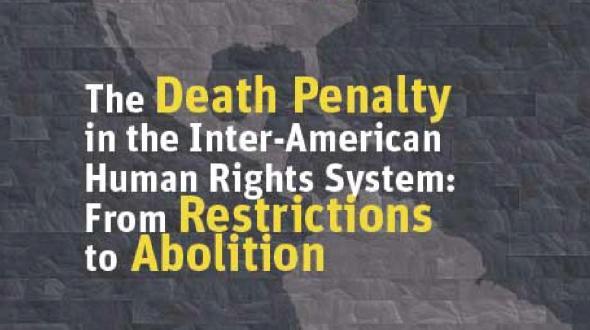 From restrictions to abolition
Protocol
On the occasion of the publication of the report "The Death Penalty in the Inter-American Human Rights System: From Restrictions to Abolition", the Inter-American Commission on Human Rights (IACHR) urged the OAS Member States that still have the death penalty to abolish it or, at least, to impose a moratorium to its application and to ratify the Protocol to the American Convention to Abolish the Death Penalty.
The report takes into account the standards developed within the Inter-American human rights system to restrict the application of the death penalty over the last 15 year and urges the OAS Member States that still have the death penalty to abolish it, impose a moratorium, ratify the American Protocol, respect the standards, and comply with decisions of the Inter-American Commission and Court.
Of the 35 the OAS Member States, 16 countries retain the death penalty: Antigua and Barbuda, Barbados, Belize, Cuba, Dominica, Grenada, Guatemala, Guyana, Jamaica, Saint Kitts and Nevis, Saint Lucia, Saint Vincent and the Grenadines, Suriname, The Bahamas, Trinidad and Tobago, United States of America and 19 have abolished it in law http://www.amnesty.org/en/death-penalty/abolitionist-and-retentionist-countries : Argentina, Bolivia, Brazil, Canada, Chile, Colombia, Costa Rica, Dominican Republic, Ecuador, El Salvador, Haiti, Honduras, Mexico, Nicaragua, Panama, Paraguay, Peru, Uruguay, Venezuela, of which, 13 have ratified the American Protocol.
The IACHR also welcomed the global tendency towards the abolition of the death penalty and the recent developments at the United Nations and regional systems for the protection of human rights and in international criminal law.
A month earlier, on 3 July 2012, the United Nations Secretary-General Ban Ki-moon called on Member States which use the death penalty to abolish it, stressing that the right to life lies at the heart of international human rights law during an event in New York.