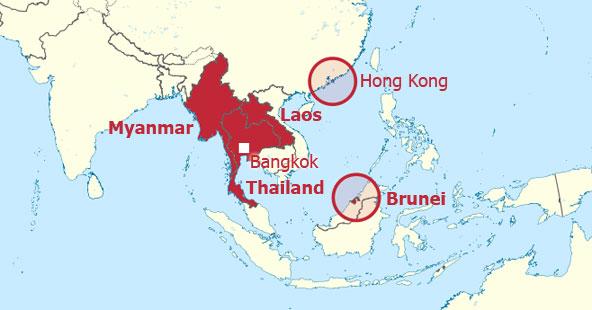 Moving away from the death penalty in Asia
Asia
Representatives from several Southeast Asian governments came together in Bangkok on 22 and 23 October, 2013 to discuss the prospects for abolition in the region. The conference, hosted by the office of the UN High Commissioner on Human Rights and the Thai Ministry of Justice, generated surprising new information on government plans for abolition in the region. Long considered a stronghold of the death penalty, the reality on the ground is much more complex.
In his opening remarks at the conference, Naras Savestanan of the Thai Ministry of Justice announced that the government will soon propose legislation to abolish the death penalty in the country. Dr Savestanan catalogued the problems with the application of the death penalty, including the possibility of wrongful convictions, racial and ethnic bias, the lack of any deterrent value, and the pain associated with execution. He concluded that the death penalty was a cruel and unreasonable punishment.
If Thailand abolishes the death penalty, it will become the fourth abolitionist nation in the region along with the Philippines, Cambodia, and Mongolia.
Moving beyond the moratorium in Myanmar and Laos
Myanmar's government has prevented all executions in the country as a matter of official policy since 1988. According to the Myanmar Attorney General's office, the country is now considering ratification of the International Covenant on Civil and Political Rights, and will continue its moratorium while it decides whether to move toward abolition.
Laos ratified the Torture Convention just last year, and has had a de facto moratorium for more than 20 years. Phoukhong Sisoulath from the Laos Foreign Ministry commented that the concept of proportionality in Laos dates back several hundred years to one of the country's early kings, who was revered for his humane approach to the treatment of prisoners. Laos is now examining its penal code with an eye toward reducing the number of death-eligible crimes.
Brunei has not executed any prisoners since 1957.

Independent polling sheds new light on Japan's public opinion

One of the most interesting panel presentations during the seminar was given by Mai Soto from the Institute of Criminal Research Policy at Oxford University. Dr. Soto explained how opinion polls on the death penalty in Japan, which are frequently cited by the Japanese government to justify its retention, are skewed by the nature of the questions asked.
Official opinion polls indicate that an overwhelming majority (about 86%) of Japanese residents oppose abolition of the death penalty. Her own polling revealed that the actual number of "hard core" supporters of the death penalty is around 56% of the population. Moreover, when those hard core supporters of the death penalty are subjected to "deliberative polling," which solicits their views after they have discussed the application of the death penalty with experts, about half of them changed their minds.
Regional abolitionist strategies discussed in Hong Kong

Two days later, a conference in Hong Kong gathered academics, civil society and diplomats to debate strategies for abolition in Asia. Discussions focused on the death penalty for drug offenses, public opinion polls, clemency process, the death penalty in China, and the role of lawyers to help reduce the number of death sentences and executions. The conference was organised by the University of Hong Kong, the European Union office to Hong Kong and Macau, and ADPAN.

Aurélie Plaçais in Hong Kong
Map: TUBS