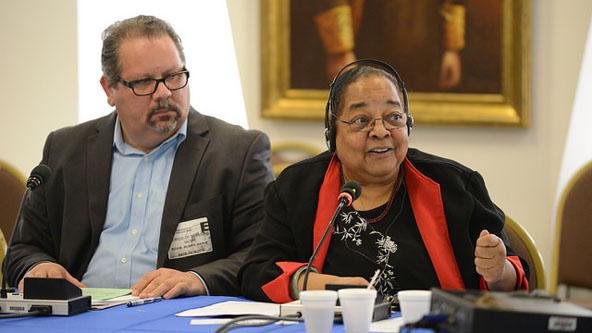 Greater Caribbean for Life addresses Inter-American Commission on death penalty in their region
Caribbean
GCL, a regional NGO working towards the abolition of the death penalty, shared information about its work and highlighted the main human rights challenges linked to the continued presence of capital punishment in the legal systems of thirteen countries of the Greater Caribbean Region.
Leela Ramdeen, Chair of GCL said: "The time is long overdue for people in the Caribbean region who wish to find more sustainable, long-term solutions to crime and violence to lift their voices against the inhumanity of the death penalty. Let us encourage governments in the region to find alternatives to the death penalty. While GCL continues to campaign and work towards better responses to the needs of victims and their families, we believe that the death penalty does not make societies safer. We are thankful for the opportunity to address the IACHR and to share our recommendations with Commissioners."
"Address crime without violating human rights"

"Today's hearing before the IACHR is an historic event, in which the abolitionist civil society of the Greater Caribbean raised its vital voice against the obsolete practice of the death penalty. This event will certainly incentivize an honest dialogue in the Americas about the need to address violence and crime by our governments without the violation to human rights incarnated by the capital punishment", stated Carmelo Campos Cruz, GCL's Deputy Chair.
Watch a video of the hearing below, which alternates between Leela Ramdeen speaking English and Carmelo Campos Cruz speaking Spanish.
GCL urged the Commission to issue the following recommendations targeted at all Member States of the OAS, particularly those that still retain the death penalty:
1. Sign and/or ratify the international and regional instruments which aim at the abolition of the death penalty.
2. Strengthen the criminal justice systems in our countries by, among others actions, improving their law enforcement agencies, their detection and conviction rates, their forensic capabilities, and Court facilities which may serve to improve efficiency and processing of cases.
3. Request retentionist Member States of the OAS to provide accurate and ongoing information to the IACHR about the persons sentenced to death and their demographic characteristics.
4. Build on the positive developments in the region and establish a moratorium on executions, with a view to abolish capital punishment and commute all death sentences to terms of imprisonment.
5. For the special case of the Commonwealth of Puerto Rico, request that the Government of the United States immediately declares a moratorium in the application of the Federal Death Penalty Act in Puerto Rico and prohibits their use in court proceedings.
6. Take appropriate action to address the root causes of crime, employ innovative and effective strategies to reduce crime, address the needs of the victims of crime, and find non-lethal means to protect society from offenders.
During their visit to Washington, GCL's representatives will also meet with officials of the IACHR, as well as with representatives of permanent missions to the OAS and abolitionist organisations located in the US capital.
Photo: CIDH/Flickr